Aspiring To Greatness
Author: Jay |
Posted: November 12, 2008 at 2:05 am
|
12 Nov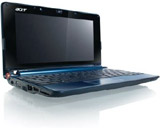 I've been thinking about getting a "netbook" (sub-notebook) for a while, as a secondary laptop, and it's a good thing I waited because recently Acer has added a new product line called Acer Aspire One with versions utilizing non-solid-state drives (in other words, regular 2.5″ hard drives) which allows them to install Widows XP.
I ordered one for myself last week, the one with 160 GB hard drive and 6-cell battery (~6 hours life).  Got it through Amazon for $399, no tax, free shipping.  That's right, a fully capable new laptop for $399.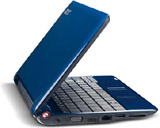 This is going to be really great for me.  Even though the screen size is only 8.9 (with a screen resolution of 1024×600), and the keyboard is slightly smaller than a full-size with a slightly awkward trackpad, everything else is more than I need for when I want to take a laptop while traveling or working away from home.
See, my main laptop is also my main system, and it's gor quite a bulky 17″ screen.  Don't get me wrong, my main laptop is fast and dependable and is great as both a main system and has been pretty capable when I need portability.  But it's just too damn big and it's getting cumbersome to lug it around when I need portability.
The new Aspire really solves a lot for me without skimping on anythign I really need when working remotely.  It's got 3 USB ports, a SDHC slot, multi-reader, built-in 54g wifi, a 1.6GHz Intel Atom processor, and 1GB RAM.
Since putting my encrypted mail drive onto a thumb drive for portability, it will allow me to easily manage my email on either laptop.  I also got a 16GB SDHC card which I can use as a background backup drive for the main/boot partition in case of a system problem — I use Acronis True Image to do image backups or partitions, which can be done in the background while I work.  I use TrueCrypt to create encrypted virtual drive files so, if I lose my thumb drive, nobody will be able to access my data and I can maintain regular backups very easily (just 1 file to copy).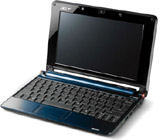 As far as mobile internet, I don't like using free wifi hotspots (I don't trust them), but I have a Sprint broadband (3G) account and can get a 3G USB adapter compatible with Sprint, and be able to have Internet access wherever I have a phone signal (which is almost everywhere).  It also has a regular RJ45 jack for wired connectivity.
Seriously, this is going to be a great little gadget for me.  It will be so much easier for me to go have a coffee at a bookstore/library while having everything I need to wo work, in a package barely the size of a college notebook and less than 3 pounds…

Print This Post
|

Email This Post